Although this is a watch forum, I would really be remiss if I didn't point out the stunning increase in the price of gold over the last few days.
We are already seeing some gold watch manufacturer's raising the prices of their watches and others attaching a surcharge for the amount that gold rises above the $600.00 per ounce benchmark.
Here is a live active chart for the price of gold from the folks at Kitco: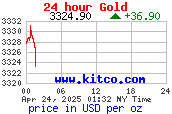 As I write this entry gold is hovering around $733.00 per ounce, the highest prices in over 30 years.
Ultimately this will affect the prices of gold electroplated watches, too. And the
gold jewelry
on our Gem of the Day website is being heavily affected.
The good news is that all the gold you already own is increasing in value. Certainly it has always made sense to have gold,
precious
metals and other commodities as part of your savings portfolio. But your gold jewelry is increasing in value, too!!
If you're planning to purchase a gold watch or gold jewelry please callus TOLL FREE at 1 (888) 243-6329 and we can discuss the best values and the opportunities presented by
certain
manufacturers
who are holding the line on increases at this time.